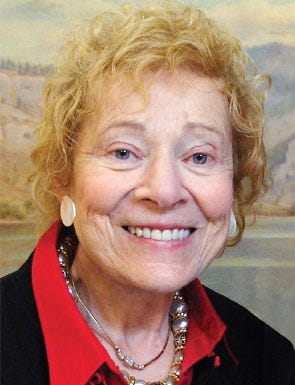 Utta was born in Brooklyn, the younger of two children and the daughter of immigrants from Pinsk, Poland. Despite a depression era childhood, her spirit was bright and her thirst for knowledge was strong. This desire to learn brought her to matriculate at Brooklyn College where she met Larry Kravet, who would become her husband, greatest friend, endless supporter, and forever companion. Utta married Larry in 1949 - the same year that he joined his uncles and father at S. Kravet & Sons. As a newly married woman, Utta chose to share her love of learning with elementary school children as a teacher at Manhattan PS 188.
A few years later, Utta and Larry moved to Valley Stream on Long Island and welcomed their first born child - a daughter named Ellen. Ellen was followed by sons Cary and Scott.
All three children eventually joined Larry in the family business and Utta too found her role within the company - adeptly running the marketing department, guiding innovative advertising campaigns - pioneering feminism and always capturing beauty.
Utta was a woman with many passions. She loved art - she and Larry were avid collectors of both Native American art and American Art Glass. The commonality in all their treasured "finds" was a love for beauty and color. Utta's love of art took her so far as to become a docent at the Nassau County Museum of Art in Roslyn on Long Island giving tours of the property and sharing an innate appreciation for artistry.
Her love of travel was limitless with travels all over the world ranging from South Africa and Europe to Montana and Santa Fe. A marriage with a shared spirit of exploration made for a life of globetrotting wanderlust.
Utta was also an unwavering baseball fan. Starting with a love of the Brooklyn Dodgers, she enjoyed America's past-time at an early age. When the Dodgers abandoned her hometown, she proudly took up the fandom of the New York Mets. While The Mets were not always a winning team, Utta dutifully watched them through wins and losses, commercials and all.
Most importantly, she deeply loved the idea of "togetherness" - togetherness through Judaism, through family, through friendships. Utta is survived by her children - Ellen, Cary and Scott; her son-in-law Raymond Burke; her daughter-in-laws Lisa and Leslie; and her five grandchildren - Sara, Daniel, Sander, Shayna, and Layton. She is pre-deceased by her husband Larry, her granddaughter Ariana Kravet and her brother Manny Fall. Utta also had many loving nieces, nephews, and dear friends.
The magnitude of her spirit will be honored by her family through her memories, her endearing expressions, and the love that will remain.