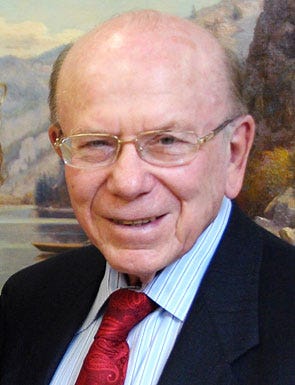 Larry was born in Brooklyn, the eldest of three children. He volunteered for WWII in 1943 and served as a Navy medic on a ship in the Pacific. He graduated from LIU with a business degree in 1948 and joined what was then S. Kravet and Sons in 1949, the same year he married Utta Falkowitz.
After serving his country again in the Korean War, Larry resumed his work at what became Kravet Inc. for the next 60 years.
Larry was a man with many passionate interests. He loved art and nature. More specifically, the colors that are created by both human talents and non human forces. These would often be integrated into his textile products. He loved fishing, walking in the woods and just observing the details and interactions in nature. He also loved to travel to almost anywhere.
Most importantly he was passionate about his family. He is survived by Utta, his wife of 68 years; his brother Alvin; his children- Ellen, Cary and Scott; his son-in-law Raymond Burke; his daughters-in-law Lisa and Leslie; and his five grandchildren- Sara, Daniel, Sander, Shayna and Layton. He was predeceased by his granddaughter Ariana and his sister Marilyn Chaus. Larry also had many loving nieces, nephews and dear friends.
As the company so joyously celebrates its 100th anniversary, Kravet Inc. fondly recognizes that Larry Kravet was around for nearly all of those 100 years. His family credits his ingenuity and dedication to the home and design industry for the company's continued success and hopes to continue his legacy in the years to come.